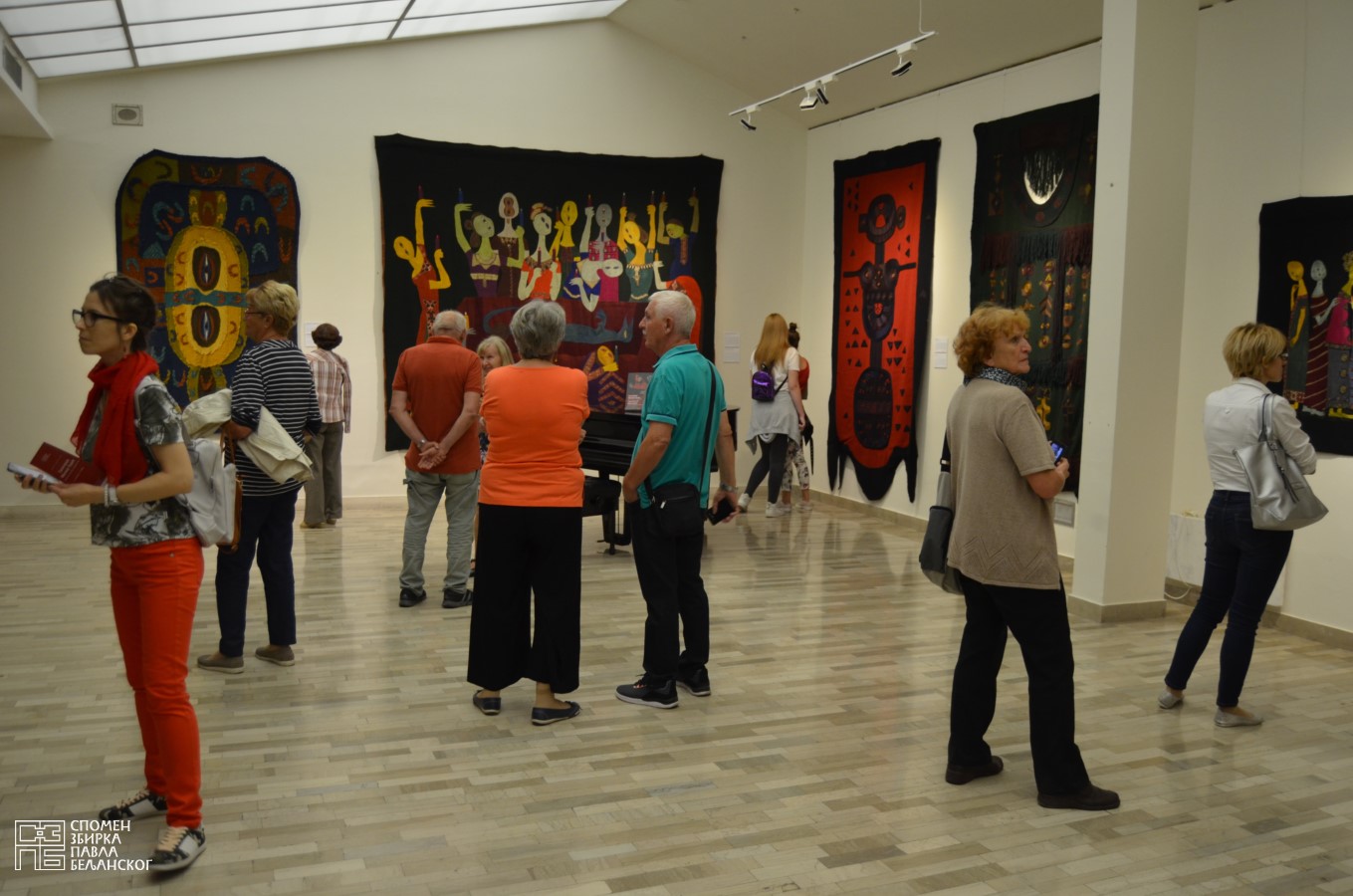 TAPESTRIES OF MILICA ZORIĆ: SYNTHESIS OF TRADITION AND MODERNITY
Exhibition Curator: Milica Orlović Čobanov, The Pavle Beljanski Memorial Collection
Partners: Museum of Contemporary Art in Belgrade, Museum of Semberija in Bijeljina, Museum of Applied Art in Belgrade, Office of Common Affairs of the Republic Institutions, The Government of the Republic of Serbia
12 September – 27 October 2019
Partnership with the legacies of Milica Zorić and Rodoljub Čolaković at the Belgrade Museum of Contemporary Art and the Museum of Semberija in Bijeljina in preparation for this exhibition is another form of strengthening connections with legacies based on the program activities of The Pavle Beljanski Memorial Collection. The items in the property of the Museum of Applied Art and the Government of the Republic of Serbia were also included in the exhibition providing it with a retrospective context and pointing to the unique place of Milica Zorić both in the collection of Pavle Beljanski and in the history of Yugoslav Modernism.
The Pavle Beljanski Memorial Collection has exhibited 28 tapestries created in the period between 1958 and 1971, as well as rich archival material printed on documentary panels which also include photographs and documents available to the public for the first time. The exhibition is based on the concept that all segments of the project contribute to better acknowledgement of Milica Zorić's role in the national modern art.
The exhibition is accompanied by a well-designed bilingual catalogue in Serbian and English, that includes articles written by the curators of partner museums: Svetlana Mitić, Bojana Popović, Sandra Vesić Tesla, Tanja Lazić and the exhibition curator, Milica Orlović Čobanov from the Pavle Beljanski Memorial Collection.
After its Novi Sad presentation, the exhibition was held at the Museum of Semberija in Bijeljina (4 November – 6 December 2019), as part of the Višnjić's Days event.
TAPESTRIES OF MILICA ZORIĆ: SYNTHESIS OF TRADITION AND MODERNITY
500.00 рсд
Description
Authors: M. Orlović Čobanov, T. Lazić, S. Mitić, B. Popović, S. Vesić Tesla
Language: Serbian (Cyrilic), English
Pages: 75
Dimensions: 24 x 30 cm
Year: 2019