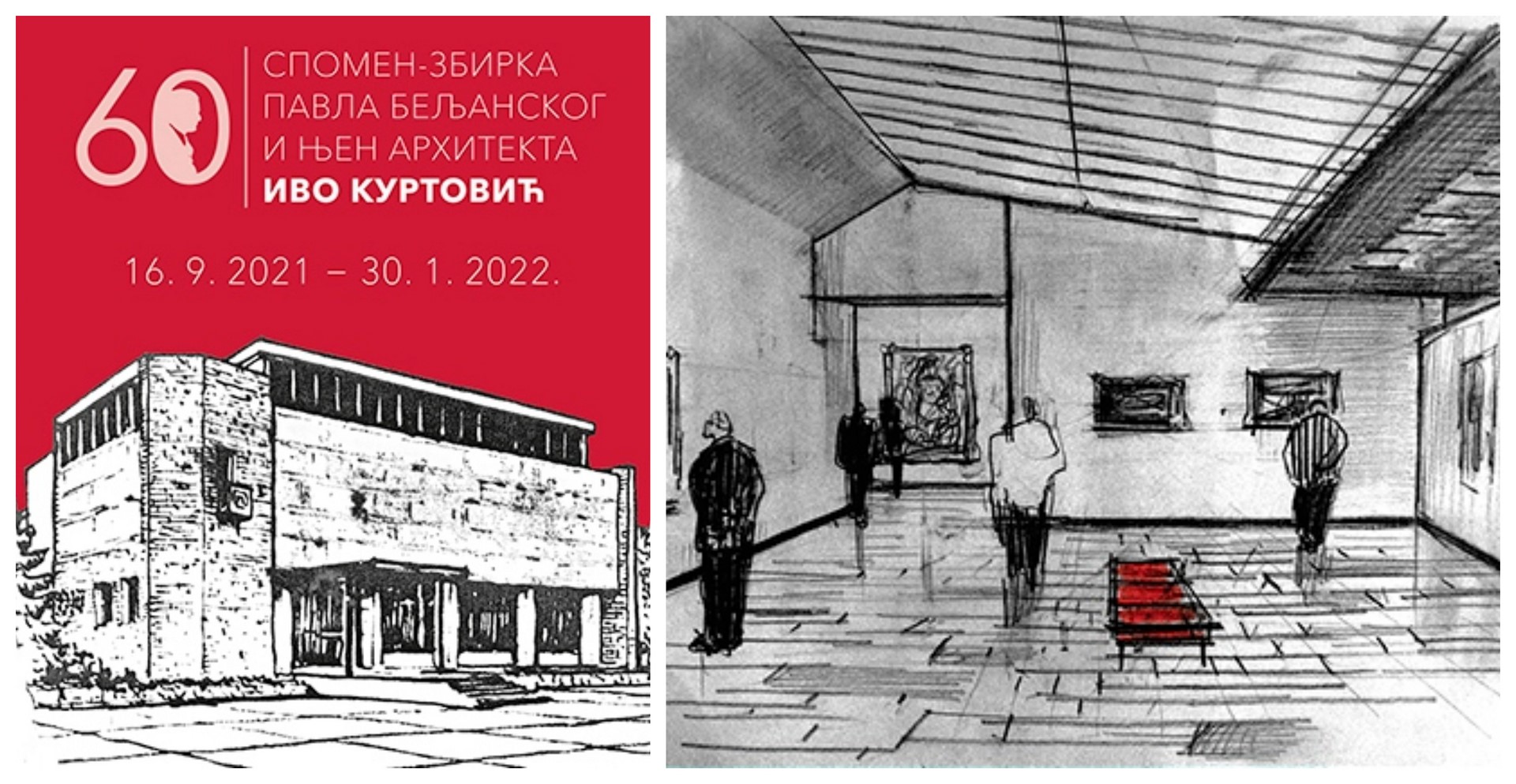 Exhibition THE PAVLE BELJANSKI MEMORIAL COLLECTION AND ITS ARCHITECT IVO KURTOVIĆ
16 September 2021 – 30 January 2022
The exhibition The Pavle Beljanski Memorial Collection and Its Architect Ivo Kurtović will be opened on Thursday, 16 September, at 7 pm. The exhibition curator is Valentina Vuković PhD, an architectural historian and curator at The Pavle Beljanski Memorial Collection.
Sixty years after the museum opened to the public, on 22nd October 1961, The Pavle Beljanski Memorial Collection will hold an exhibition dedicated to the building architecture and its designer, the architect Ivo Kurtović.
The architect, the professor at the Faculty of Architecture in Belgrade and the painter, Ivo Kurtović (Sutivan on Brač island, 1910 – Belgrade, 1972), belongs to generation of most important architects in Yugoslavia, those who reached their career peaks in the decades following the Second World War. At the exhibition, the audience will have the opportunity to learn more about the building design project call, the architecture of the Memorial Collection, as well as the Mediterranean influence on Kurtović's work.
The exhibition presents valuable photographs and archival material from the Memorial Collection, the National Library of Serbia, the Hvar Heritage Museum and numerous private collections, as well as newspaper articles that will show the reaction of the public from that period and remind us of the impact this event had on local and national culture. A special segment will include the architect's artworks from the family legacy as well as two models of the building made by the students of the Department of Architecture and Urban Planning at the Faculty of Technical Sciences in Novi Sad, under the mentorship of their professors.
The exhibition catalogue, designed by Veljko Damjanović, contains articles by Jasenka Kranjčević PhD, from the Institute for Tourism in Zagreb, Valentina Vuković PhD and Jasmina Jakšić Subić, the senior curator at the Memorial Collection. The exhibition concept, developed by Luna Šalamon, will be complemented by a diverse programme that includes lectures, workshops, movie projections, as well as a dramatic enactment of the Memorial Collection opening ceremony performed by the Mišolovka Youth Theatre. The realization of the project was made possible by the Provincial Secretariat for Culture, Public Information and Relations with Religious Communities of AP Vojvodina, with the support of Radio-Television of Vojvodina and Generali Group Serbia.
Programme:
Pottery workshop for children "Pottery Square"
Associate: Tijana Jordanovski, Community Association of Art Enthusiasts "Trg keramike"
Saturday, 2 October, 1 PM – 2.30 PM
Architecture and museums in Serbia
Lecture
prof. Nađa Kurtović Folić, PhD and prof. Milan Popadić, PhD
Thursday, 7 October, 7 PM
Valentina Vuković, PhD
Curatorial lecture and a sign language tour
Associates: The Association of Serbian Sign Language Interpreters
14 October, 7 PM
The meaning of a broad brush stroke
Movie night
28 October, 5 PM and 7 PM
ТHE CEREMONY OF THE PAVLЕ BELJANSKI MEMORIAL COLLECTION AWARD
ON THE OCCASION OF MUSEUM'S ANNIVERSARY
54th award ceremony
Friday, 22 October 2021, at 7 PM
The Mediterranean in the Works of Ivo Kurtović in Croatia
Lecture
Jasenka Kranjčević PhD, Institute for Tourism, Zagreb
16 September, 7.30 pm
Ivo Kurtović – Architect of Cultural Buildings
Curatorial Exhibition Tour
Valentina Vuković PhD, curator at The Pavle Beljanski Memorial Collection
23 September, 7 pm
Post-War Architecture in Kruševac (1945–2000)
Presentation of the paper awarded in 2020.
Lecture: Jelena Gačić, MA
Thursday, 2 December, 7 PM
"In the Mirror of the Muses"
"Youth Museum" Project
"Mišolovka" Youth Theatre
Saturday, 11 December, 4 and 6 PM
Modernism and Modernization from the Second Half of the 20th Century: Novi Sad Files
Prof. Dragana Konstantinović, PhD and Slobodan Jović, MA
Department of Architecture and Urban Planning, Faculty of Technical Sciences in Novi Sad
Thursday, 16 December, 7 PM