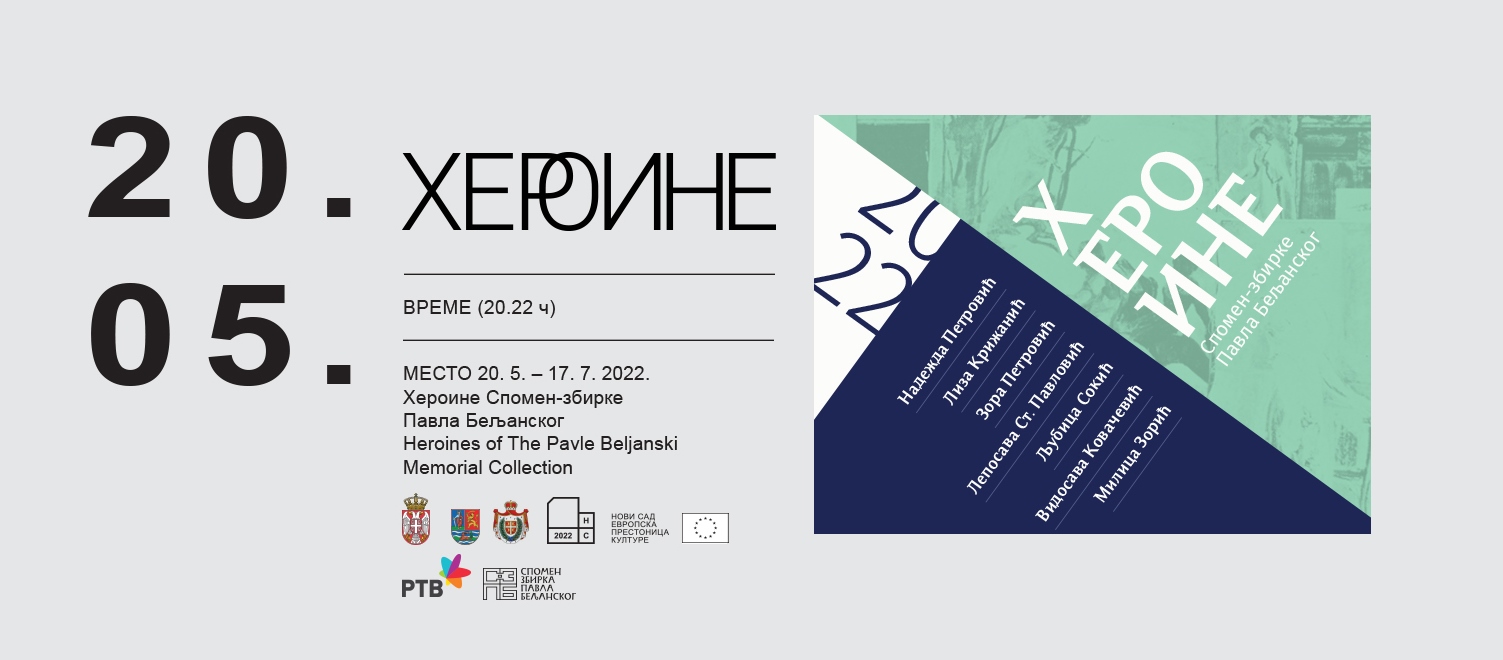 EXHIBITION PAVLE BELJANSKI'S HEROINES
Even internationally, the Memorial  Collection is considered an exceptional legacy with a collection that contains a quarter of artworks made by women. It includes works by seven female artists: Nadežda Petrović, Vidosava Kovačević, Liza Križanić, Zora Petrović, Leposava St. Pavlović, Ljubica Sokić and Milica Zorić. A special segment consists of video presentations about these artists, while an additional video, directed by Suzana Vuksanović M.A., presents a comparative overview of their art and the art of contemporary Novi Sad artists: Milica Dukić, Zorica Čolić D.A., Jelena Vladušić D.A., Jelena Janev D.A., Monika Sigeti, Jelena Kovačević M.S., Dragana B. Stevanović D.A. A rich programme is dedicated to the status of female artists and it involves discussions, lectures and conferences.
This exhibition is part of the "Heroines" programme arch conceived by the "Novi Sad – European Capital of Culture" Foundation.
Exhibition curators: Prof. Dr Milanka Todić, Milana Kvas M.A. and Valentina Vuković PhD. Exhibition catalogue: editor Milana Kvas M.A.; authors of articles: Prof. Dr Milanka Todić, Valentina Vuković PhD, Vera Kopicl M.A. and Mia Ćuk M.A.
"FEMALE ARTISTS IN THE 20th CENTURY: STATUS AND REPRESENTATION IN MUSEUM COLLECTIONS"
Thursday, 26 May, 6 PM
Participants: Nikola Krstović doc. PhD. and Zoran Erić PhD. from Belgrade, Lovorka Magaš Bilandžić Sc.D. and Nataša Ivančević from Zagreb, Prof. Dr. Sarita Vujković from Banja Luka. Moderator: Valentina Vuković PhD., Novi Sad.
Heroines of Modern Art
9 June, 7:00 PM
Lecture: Prof. Milanka Todić PhD
Milica Zorić's World of Magic
18 June 1:00-2:30 PM
Workshop for children: Milica Orlović Čobanov
Conversation on Heroism: To Be a Female Artist!
Suzana Vuksanović, MA
Summer at the Gallery Square
Thursday, 14 July, 9 PM
Back Garden of GMS and PBMC
Interview with an Artist: Mija Ćuk, MA
Miroslav Karić, MA
Saturday, 16 July, 7 PM
"Bulevar Books" Bookshop, Novi Sad